Voluum is real-time tracking software to analyze the performance of affiliate marketing campaigns. As affiliate marketers, we must track the campaigns to check their insights. You are wasting your time if you aren't tracking the performance of your campaigns. It is necessary to understand what the things that should be changed are and what to maintain with the affiliate marketing strategy so as to get a positive effect.
You must have heard the line:
"Affiliate Marketing has made businesses millions and ordinary people millionaires."
But to do affiliate marketing with proper strategy, it is necessary to track the data insights of your marketing strategy to get the best-expected results. If it is done in a proper way, then it would lead to a huge profit for your business.
Here is when Voluum is needed. The software tells us everything about the processing, traffic, API reports, and overall performance of the online campaigns. So here is the voluum guide in detail.
Overview On Voluum
Voluum is the platform where one can monitor its efforts done on affiliate marketing. Advertisers can track their activities from anywhere as it is cloud software that is not device-based. If you really want to get succeed in your affiliate marketing, then I would suggest reading all the aspects of this post and start using the Voluum tracker software.
Reading Voluum review is good to check what Voluum is and how does the software help for marketing before paying its cost. The software lets you look at the live updates of your marketing campaigns. Here you can go through the number of clicks, visits, conversions, and revenue of the affiliate marketing campaign.
Cons And Pros
Every software has some positive and negative points. What matters is how well it works for your business and marketing. Look at its cons and pros:
Pros-
It's a full-featured marketing tracking programme. It's incredible how far this tool can go into the details of any marketing strategy. It's incredible that it works with the most popular third-party traffic providers.
From performance to analytics, fraud detection, and reporting, it has all the capabilities you might desire in a tracking tool.
Because it is hosted in the cloud, there is no need to worry about updating software or purchasing a new programme. As long as you have a stable Internet connection, you may access your data at any time and from anywhere. You can also share the same information with your colleagues. The mobile app version comes in handy if you're constantly on the go.
Cons-
While the user interface is appealing, it can be intimidating for individuals who are new to affiliate marketing, particularly when it comes to tracking. It has an onboarding procedure and a Voluum tutorial, which is helpful, but there is still a learning curve.

Voluum does not have a free plan or even a free trial. Signing up for a demo is the most you can do, which makes it hard for people who have doubts about it.

Data retention has a time limit, which can be as little as three months. You'll need to upgrade your plan if you want to use them for a longer amount of time, and the possibilities aren't the cheapest on the market. Even if you do, you'll only be able to see up to two years' worth of data.
Also Read- iAmAffiliate Review
Features of Voluum Tracker
1. Real-Time Campaign tracking
As already stated, Voluum is the real-time reporting software that provides you with live updates. It is built with such an interface that you will get real-time results about the behaviour of visitors and the conversion rates.
2. Driving traffic
Voluum provides seamless data to the customers regardless of how many users are coming i.e. it processes the data continuously. It has some integration to check traffic sources also. It does not make you check all the traffic sources, then you can even manually check the traffic sources by integrating its parameters.
3. Device independence
Voluum knows that not every time marketer is available with its PC, so there's a need for device independence to work on even mobile phones. So it works on mobile phones too. Just log in to your account and check the real-time details of your running campaign.
4. Reliable and secure interface
Voluum has a built-in interface that is completely reliable and keeps your data secure. Its encryption and authentication methods are strong and do not make your data get leaked or theft. In the situation of network time, out also keeps the campaign live. Check out this voluum tutorial to understand about voluum affiliate program.

How To Use Voluum?
It is necessary that you must read the Voluum reviews before starting using it. So when you are satisfied after reading Voluum reviews, then go for working with it and I assure you would like the platform and its performance. So learn to use it for better results and increase sales with your affiliate marketing.
Dashboard Overview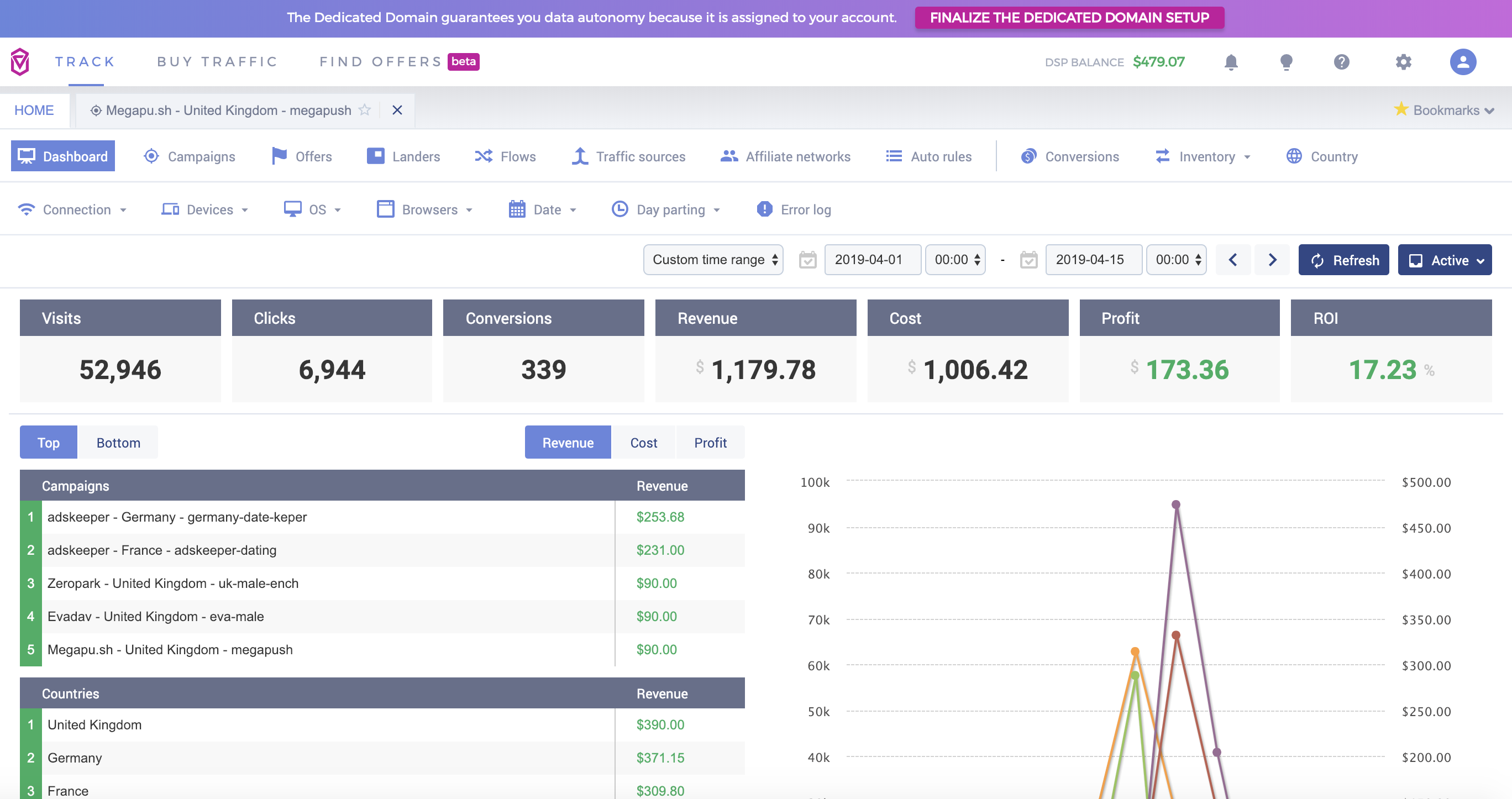 On creating your account, you will first redirect to the "dashboard" for voluum login. Here, you will see the insights of campaigns and visualize the stats of the results.
You can check the overall performance at the top of the dashboard. It will display clicks, conversions, visits, revenue, cost, profit, and ROI.
At the left side, you can check campaigns, traffic sources, countries as well as offers with the profits. Corresponding to that at the right side shows the graph with stats of your affiliate marketing campaign performance.
Along with the dashboard, there is a "campaign" tab. When you click on it, you can go through all your running campaigns along with its insights. If you click on each campaign, you would be able to see the estimated performance of each of the individual campaign.
Moreover, it provides you with the filters also. You can use these filters to analyze the performance according to your needs. Play with these filters and learn how you could earn the profit.
Voluum Setup
What do you have to set up in Voluum panel to track your campaign? So here you go with a detailed description to set the whole Voluum account.
For setting the traffic source, click Traffic sources button and then 'new traffic source' option. There you can check the templates that are available for setting traffic sources or you can do this manually.
Affiliate network (optional)
Like in traffic sources, there are also predefined affiliate networks. So choose anyone and you will get a postback URL. Then insert that in your affiliate network. This step is optional and you can even skip this.
Generally, lander links your campaign to the landing page. This is not a mandatory field. This could be used on flows and paths with the offer element.
In the flow menu, you will get the option of 'Offers'. Then you need to provide the asked details such as the name of the offer, and offer URL. For the country, I would recommend filling 'Global'. This is because when it starts getting traffic, then URL will automatically detect the country and send offer to the user accordingly.
In case, traffic source does not provide traffic of specified country, then this traffic will not get lost, though, it redirects to some other offer.
Moreover, you will need to set parameters for dynamic tracking according to which you need to send insights of an affiliate network.
How to create your campaign like a pro?
The most important step for affiliate marketing is to set up a campaign that works like a pro. You would have to choose traffic sources that you predefined on Voluum setup. Here, you will set CPC, CPA, or CPM that you want to pay for traffic. In case you are using SmartCPM, then you don't need to specify it.
There will be an option for 'Don't track costs'. So you should select the option if you are using SmartCPM. Then in the advanced setting, pick the source that you have defined previously.
Next, you will create a path of offers in the campaign. You can also select for destination URL and add the direct link also. For the default source, you have selected, the software will tell you about the distribution of traffic. That's it! Save your campaign settings and on its URL tab, you will the campaign ID. You can also track your competitor with voluum ad tracking software.
Postback URL
In case if traffic sources are not predefined, then it needs to do it manually and insert it to link the postback URL. To get the information and details of the traffic source of the affiliate network, it needs the postback URL. With predefined the traffic sources, the postback URL is already set. But when we set up traffic sources manually, you need to set postback URL correctly.
You can set it according to your need. For example, if in case you think that on one click you will get more than one transactions, then you can set it to accept duplicate postbacks. Or you can also set it to accept from different IP's.
Pricing of Voluum
In the case of Voluum pricing, its functionality speaks itself about the cost and pricing. You can also use the voluum offer code before choosing any plan.
It has three plans for individuals with different specifications and features
Discover Plan
Cost: $89/month
Key features of the entry plan
Exclusive offers
Group onboarding webinar
Paid and organic conversion tracking
Basic notifications
3 Months of Data Retention
20 Active Campaigns
Profit plan
Cost: $149/ month
Key features of the Basic plan
All features of the entry plan
Traffic source cost integration
Anti-fraud kit
AI automation for automatic optimization
Notification for desktop and mobile
3 Custom Domains

SSL

Unlimited Active Campaigns
Scale plan
Cost: $299/ month
Key features of the advanced plan
Custom notifications: For Voluum review, I must mention the point that it has a feature to provide custom notifications also. If you think some events are important to you, then you can enable its desktop or mobile notifications too. It would help you check the actions anytime.
Traffic distribution AI: One of an advanced is feature is that Voluum automatically distributes the traffic for the ROI by monitoring the performance of paths, offers, and landing pages.
It works on artificial intelligence thus providing you the automatic optimization of campaigns for getting the best-desired results.
Anti-fraud kit: Anti-fraud kit works with the three steps- detect, analyze and protect. It helps in detecting the suspicious clicks on your links, analyze the real and quality visitors and protect from them by using some protective measures.
Thus, you do not need to waste extra money on fake traffic and maintain the best results.
SSL certificates on a custom domain: Encryption connection could be set for your custom domains on SSL certificates. Thus it helps to establish a secure connection between the browser of visitor and server. When you set SSL certificates for web browsers, most of the users will be able to see the advertisement for your campaign. However, there are some browsers that do not support SSL, so they won't be able to see your advertisement.
Shared reports: It is an effective feature that lets you share the reports of affiliate marketing campaigns with your team and associates. This provides a unique URL that can be shared without providing them access to Voluum. Thus, it helps in improving performance, reliability with the associates and safety of your account.
Overall Experience
Go ahead with using Voluum and use it according to the steps described above, make all the things clear, and master your affiliate marketing campaigns. Good luck!