Affiliate World Conference Europe is going to be held on 6-7 July in Barcelona Spain So, if you have a keen desire to learn from top affiliate marketers and advertisers across the globe, then this place is for you. Top advertisers from different countries gather there and share fruitful research data and information with the visitors. Obviously, this valuable data is not free. You need to buy a pass for seeking this information.
But the question arises that- Is it worth spending money on?
Let's find out in the given article. We will navigate you throughout the agenda of the Affiliate world conference Europe along with the reasons to attend it. Hope you can fetch all the answers at one place, else for any further information we suggest you to post your queries in comment section.
What is Affiliate World Conferences?
Affiliate World Conferences gather the world's biggest affiliate marketers. This time the AW conference is going to help in Europe. Since 2015, AWC conferences have been growing exponentially and become the world's leading and recognized event for more than 250 companies. Up to 4,000 attendees participate in each event of the Affiliate World Conference.
When & Where the Affiliate Marketing Conference Europe Event is going to happen?
Affiliate Marketing Conference Europe Event is two-day conference. This event is going to take place in Barcelona Spain. The decided date of the event is 6-7 July 2022.
| | |
| --- | --- |
| Venue | Fira de Barcelona, Avinguda de la Reina Maria Cristina, s/n, 08004 Barcelona, Spain |
| Event Date | 6-7 July 2022 |
| Location on Google Map | https://goo.gl/maps/DBvHDFez3EdW2BGG7 |
Affiliate World Conference Europe 2022
Affiliate World Conference Europe 2022 enables you to seek an opportunity of meeting the industry's brightest minds at center stage or face to face. Learn from their ideas, and data-driven strategies, join their team, and become partners to give a boost to your career and whatever else valuable you can gather.
As an affiliate, enhance your network opportunities by meeting like-minded people at the conference. Take the most out of this golden opportunity that leads to an increase in your profits.
After soaking in the knowledge, the attendees can also lookout for some extra perks at the end of each day of the conference. These extra perks can be rooftop sunsets, happy hours and irresistible industry nightlife.
What makes it World's #1 Performance Marketing Conference?
Get a chance to meet 4000+ like-minded attendees
200+ Exhibitors in the affiliate conference 2022
Affiliate Marketers visits from approximately 110+ countries
Get partner with 100+ advertisers
35+ Traffic sources
150+ Affiliate Networks
How To Start Affiliate Marketing With AdsPaying Media-Most Profitable Platform?
Which Affiliate Marketing Topics will be covered in the conference?

Affiliate World Conference Europe 2022: Speakers
Speakers at Affiliate conference Europe present actionable insights, data-driven knowledge and innovative ideas on affiliate marketing & ECommerce. These ideas can actually ignite your thinking process and drive more profits from your products. You get linked to the industry's latest trends from the data driven strategies by Affiliate marketing experts.
Who are the speakers?
Now, this actually is a very strong reasons to visit Affiliate World Conference at least once in your lifetime.
Why you shouldn't miss this conference?
Make Lasting Connections
There is no second thought that whenever you visit such kind of conference, the communities only get bigger. Regardless of the fact that you are going to attend it for the first time or already a pro attendee for such kind of events. At such conferences, especially Affiliate world conferences you get a chance to meet 4000+ ambitious affiliate marketers across the globe. Meet and collaborate with the leading advertisers.
Just play the right business card and take every moment as a lifetime opportunity. A right practice will definitely lead to a 10X business for a long term.
Actionable, Valuable & Data- Driven Content
Barcelona is going to be overwhelmed with the arrival of 30+ world class affiliate speakers. They are actually going to reveal their strategies, secrets supported with real data-driven content. Valuable information indeed!
The content is delivered through presentations and panels on the centre stage. Grab the actionable data from the conference and make some informed decisions for yourself.
Fun Additional Perks
Affiliate world conference not only offers to best learning opportunities but also gives you serves you fun perks. The aim is to give you the fun loving and relaxing factor at the event. Some the them are as follows-
🥳 Meetings in Affiliate Park
Meeting in a park give it a more casual and fun vibe. Grab a beautiful spot and experience happy hours at the both days of the show.
🥳 Theme based Photobooths
Catch some eye-candy content for your Instagram feeds with theme based photobooth at Affiliate World Conference Europe 2022. The setup is super worthy to see and click photographs with your friends & colleagues.
🥳 Quick Nap Massage Stations
You can flex your muscles during the hustle of all day at the massage stations. This 10- minute short break can do wonders and help you in regaining your energy.
🥳 Mind-Blowing Gaming Zone
Gather your friend, colleagues and fellow attendees at the mind-blowing gaming zone. It's time to be a part of some friendly matches!
🥳 Recharge Zone
I'm sure you don't want to miss capturing of some lifetime memories just because your device got ran of battery. AWC understand your need. Thus, they have a set up a recharge zone where you can fuel up any device, sit back at comfy seats and get live telecast of what's going on stage.
🥳 Party Bash at Affiliate After Hours
At the end of first busy conference day, flock of affiliates are invited to biggest party of the night. Meet all your friends and fellow attendees in a different zone. The club is open for all public and affiliate attendees. However, as an affiliate you still gets access to premium services of the club only if you have exclusive wristband.
Get a Chance to Meet….
$1M+ per month advertisers
The fastest-growing social networks and traffic sources
54% marketers who generate over $100k per month
Fastest-growing Shopify stores
Lead gen advertisers in finance, solar, insurance, health, and many more
This doesn't gets ends here!
A attendee will also get a chance to meet reps, employees and owners of these companies
Change the Game with Just One Pass
This pass leads you to two game changing day. An affiliate can gain so much and take their career to another level. Check on what you will get access and how you can use it in a better way for yourself-
1. World Class Exhibition Market
As an affiliate, you will get access to over 190+ advertisers, traffic sources, and networks at Affiliate world conference, a renowned exhibition floor.
Past Exhibitors Include:
Empire
Advidi
Thrasio
360 Affiliates
Supreme Media
ROI Collective
Algo Affiliates
Monneo
Huge Offers
Digistore24
Hastraffic
DFO
Outbrain
STM
2. Mastermind-Level Content
Over 20 hours of expert-level content across two stages is presented by some of the highest performers and leaders of the Affiliate industry.
3. Diverse Networking Events
Learn from two niche-focused hour-long Mixers each day. End you day with happy after hours from affiliate conference. That gives you a fun vibe and relaxing end to a day.
Past Mixers Include:
Mobile Apps Mixer
Facebook Ads Mixer
Native Ads Mixer
Lead Gen Mixer
Brand Owners Mixer
Evening:
Happy Hours
4. Free Niche Tracks
Tracks encompass a series of dynamic events, organised back-to-back by niche, enabling you to make deep connections for your business.
Start from listening to expert speakers at stage and panels, to telling them your own story at a networking event, to meeting the speakers. Select a topic & let track guide you.
Past Tracks Include:
Facebook Ad Buyers Track
Lead Generators Track
Ecommerce Marketers Track
Plus, Affiliate Marketing's Hottest Topics
Affiliate World Conference Europe 2022- Book Your Passes Now!!
As of now, after going through all the details and highlights of the event you must have made your mind to attend it. Also, you might be curious to know price of passes. Check out now-
Voice Search Revolution: Adapting Your SEO Strategy for the Future

Voice search engine technology has completely changed the way we have interacted with our devices in the beyond few years. Hands-free search is becoming increasingly more useful as wise gadgets and AI-powered assistants turn out to be greater extensively to be had. In truth, it's been predicted that voice search optimization will take in more […]
The more early you book your tickets, the best price you will get. Currently, the ticket prices start from 599 Euros i.e. 49930 INR & goes up to 999 Euros 83272 INR. This is the best time to book your passes now as it on discount offer. In peak session the cost of passes may rise to 1500 Euros to 2000 Euros respectively.
Are you an Exhibitor?
Are you looking for booth and sponsorship packages? Just follow these 3 easy steps & get access to up to 16 conference tickets.
Now there are two available options to join AW Conference Europe 2022 as an exhibitor. Either you can go for booth-only options with 10 tickets includes or a Sponsorship option with 16 tickets. Yes, the sponsorship has extra facilities as compared to booth-only plans. Currently, all the sponsorship opportunities are sold out but still, you can add your business to the waiting list. Rest depends upon your fortune!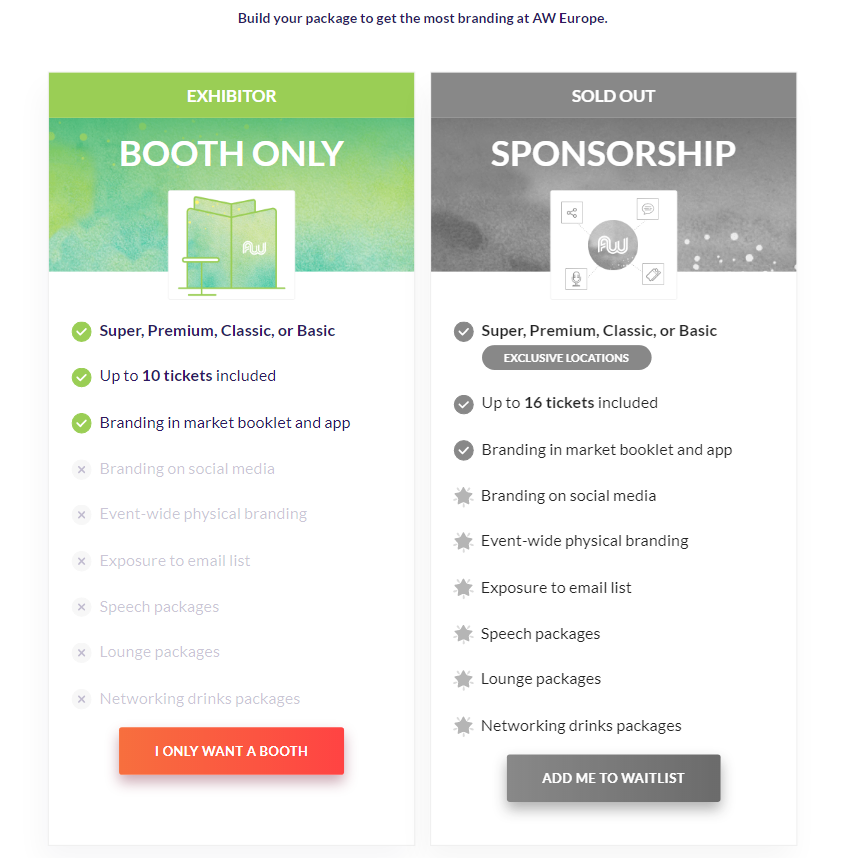 The passes for exhibitors are different. Here's the price-
There are 4 active plans for having your own business booth at affiliate conference Europe 2022 such as Basic, Classic, Premium & Super. The prices for the same start from 6999 Euros and goes upto 21999 Euros respectively. On the basis of the business size and need an affiliate can select one of the given packages.
How to Get Updates About the Conference?
Get in touch with AW Conferences on social media via Facebook, Twitter, or Instagram. There assistance is always available to guide to any updates or questions regarding the event. An affiliate can also get access to its FAQ section for answer of any query related to the event. For exclusive videos and interviews affiliates can subscribe to our YouTube channel.
10 Awesome Affiliate Marketing Tracking Software to Skyrocket
Writing is expressing your mind through words. Being a content-writer I always try to script the best of my knowledge about the topic in the form of blogs, articles, and content.